A VBS program for Adventist Churches where kids investigate God's word!
Investigation Station: Galactic Quest is an interactive VBS program that teaches kids that God loves us so much that He has a plan to save us and He wants to live with us in heaven forever. The kids, who act as Cadets, will receive daily assignments to learn more about how God has a special plan for their lives.
Each day the kids will dig into the Story of Redemption and they will learn that:
God Is Our Creator
God Has a Plan
God Is Dependable
God Is Our Rescuer
God Is Our Friend
These lessons were developed by a team of Seventh-day Adventist pastors, children's ministry professionals, and VBS leaders with a passion for sharing God's plan of redemption. Investigation Station: Galactic Quest contains Seventh-day Adventist beliefs including the experience of salvation, heaven, the new earth, and Jesus' life, death, and resurrection. Each lesson is specifically designed to connect with community children while engaging Adventist children in learning biblical truths.
VBS is one of the most effective outreach programs your church can offer. Provide the families in your church and community with a fun and uplifting experience they will not forget by conducting the Investigation Station VBS at your church.​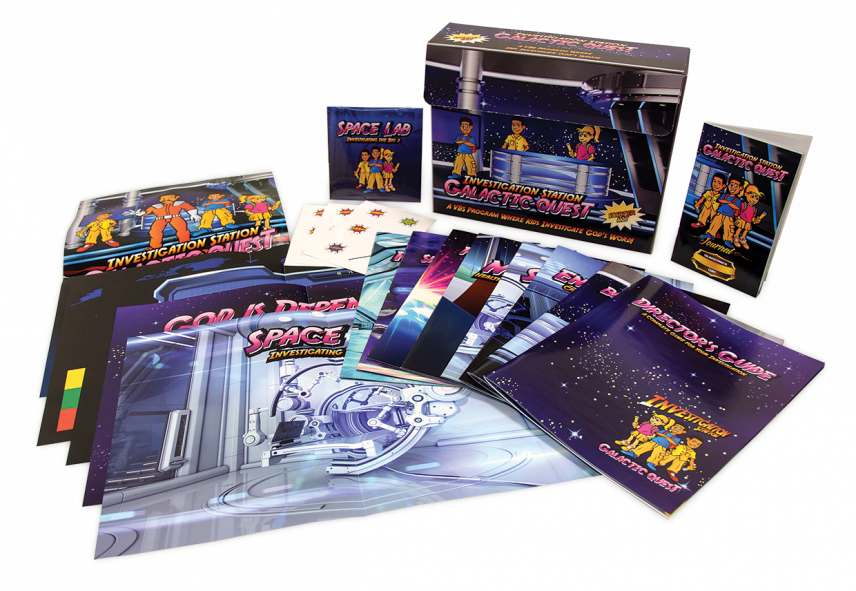 ​ Purchase Starter Kit in English
Purchase Bilingual Starter Kit