Adventures with Dr. Luke: Xperience Jesus' love through engaging Bible stories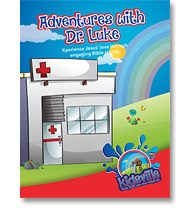 At Dr. Luke's Clinic, kids will Xperience Bible stories coming to life as they engage with Dr. Luke and meet people who have encountered Jesus that he's writing about. Each day the story shared comes from Dr. Luke's journal, which he know today as the Gospel of Luke. Here at the clinic, the characters, including Dr. Luke, have converged in our time and show how Jesus met them then, continues to love us today, and encourages us to love each other.
Find out how many kids you will have so you can prepare for each day. Ensure that you have enough supplies.
Daily Schedule
Day 1: Jesus invites the children.
Day 2: The Good Samaritan cares.
Day 3: Jesus is with the disciples in the storm.
Day 4: Jesus forgives us.
Day 5: Jesus believes in Zacchaeus.
Training Video
---